You have probably heard of 1xbet, although it is not as established as other mobile betting sites because it is still young.
However, within the last five years, its growth has been significant enough to amass thousands of fans that enjoy betting on sports events.
The original creator was a Russian company.
Its beginning dates back to 2007, while it became an online betting platform in 2011.
It also has a license from the licensing authority of Curacao. The major part of the player base originates from Eastern Europe.  
Although they also have significant revenues from Germany, Portugal, as well as western and central European countries.
The first 400,000 users it got were at very quick paces, and it has continually shown its potential as a household betting platform that is helped by a strong marketing drive.
In addition, the management of the 1xbet mobile betting platform is primarily based in Gibraltar, and is known as Tech Infusion Limited.
The mobile app itself offers you a wide range of games and betting opportunities that make it worth a try, thanks to the increasing number of software providers for the casino games.
They include famous companies such as Microgaming, NetEnt, IGT, Playtech, and many more.
If you happen to be using the 1xbet mobile version, you can access live games as well.
There are three main reasons why 1xbet mobile casino and its desktop site are very popular in the region.
One is thanks to the competitive odds and sports varieties, which makes it possible to lead the market for placing bets.
Their audience is also widespread because they support 40 different languages.
Another factor contributing to their spread is their acceptance of bitcoin, both for deposits and withdrawals.
They also manage to stand out from other bookmakers because of their live streaming service.
Although they need to improve on certain elements of their website – especially the customer support and response time.
The benefits of using the mobile app are even more than the desktop version, although both are good to use and simple enough in their layout for a beginner to navigate.
The advantage of having the mobile app is the accessibility it offers you.
You can bet on the go, as long as you have a connection to the internet.
The functionality of the mobile app and 1XBET mobile version
The designs of the mobile version and app are all interesting and eye-catching, as they do not contain annoying colors that distract you from the goals you have set in betting.
The user interface of both is generally friendly, even for beginners, and it remains one of the interactive ones that are out there.
However, one drawback that has been noted by some users is that the mobile version of the website is not very helpful when you want to place live bets or accumulators.
If you would want to download the 1xbet live mobile app, you can get it easily from the official website of the company, in addition to the app store that your mobile platform uses.
The advantage of having the app is that you can use it anywhere you go, as it is friendly and brings the casino experience any time you like.
There are some features that make the mobile app stand out from its peers though.
One is the huge extent of game coverage, in addition to the odds available.
However, when considering the differences between the 1xbet mobile app and the main website, there is no major difference – and you can still save space on your phone while betting on the platform through using the website.
The mobile app ranks among the best in terms of customization.
Downloading 1XBET App
When you download the app, you can adjust and change certain aspects of the app, including the backgrounds, overviews, the odds you want to see, and the sports you enjoy the most.
You can download the mobile app from both Google and Apple play stores, and its size is about 43mb – which is not too much, compared to other betting apps.
The mobile site itself carries all the same functions as the app, so you do not need to install the app to enjoy betting as you go  -in fact, the interface is the same as well.
Because the app requires you to have the most advanced operating system on your phone, the website will work just as good if you cannot install it, and you will get all the games you need.
The odds and bonuses
The bookmaker is expanding at a very fast rate, and the odds on the website are very low.
In fact, if you wish to try your luck in getting some money through placing bets on your favorite sports, then you can give 1xbet mobile a try.
The bonuses are not many although they can satisfy the most demanding of betters.
However, when you sign up to the platform, you have the chance to claim an exclusive bonus of 130 Euros – all you need to do is enter the special promo code 1x_1632 when you register your account. Other promos include a birthday bonus, bad streak bonuses when you lose a certain number of betslips, and many other small promotional bonuses.
The minimum amount you can place on a bet is 0.20 Euros, while the maximum profit you can make per game is 600 Euros.
The odds include Malaysia, American, Fractional, Decimal, and Hong Kong.
Promotions
1xbet mobile in particular has several promotions.
After you complete the playing through of your bonus, you gain access to these promotions, which include:
Lucky day – play and win 500 promo points every day
Serie A – when you place bets on matches in Serie A, you stand a chance of gaining some bonus points
Lucky Friday – place bets on Fridays and stand to win a bonus of 100 Euros
Note that there are special promotions that are only available for VIP members of the site.
For non-VIP members though, you can access certain leaderboards that have notices of attractive promotions you can participate in and stand chances to win bonuses, as well as other prizes such as free bets, football jerseys, and e-Sports game items.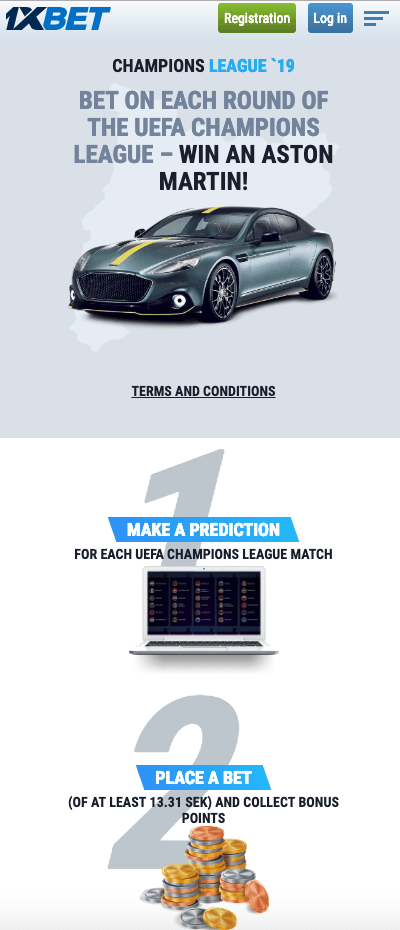 Games available
It has some of the best selections on games, as it features many top leagues in the world today.
That also means your chances of winning are high, as long as you know how to use them well. The games offered include boxing, golf, football, cricket and cycling, as well as many others.
There are also numerous TV games that include Dice, Baccarat and Lucky 7, as well as live betting that runs 24 hours a day, 7 days a week.
All the usual betting markets are available here, as the platform allows you to bet on football, ice hockey, tennis, and more than 40 other sports.
The live streaming facility, on the other hand, has access to ten different sports.
Among the many features that continually make this company increase in popularity is the very high payout rate – in fact, this goes up to 97.3 percent, and can even extend to 98.4 percent on football games.
Payment methods and deposits and withdrawals
There are several payment methods that 1xbet mobile offers to its customers, all remaining secure and safe to use.
The methods all meet the security standards of the betting and financial industry and secure the financial and personal data of each customer.
The usual methods of
In addition, you can use Neteller, Qiwi, Entropay, Bradesco, Skrill, Yandex, and a few others that are coming up as alternatives.
The good news is that deposits and making other transactions do not involve a service fee, making the process less complicated, as well as the payout waiting time to be shorter.
The withdrawal process on average takes about 15 minutes of waiting for e-wallets, while the usual debit and credit card withdrawals have a waiting period from one minute to seven days.
Compared to other bookmakers, this waiting period is rather short.
In addition, if you use a desktop computer to access your account and place bets, there is a unique application the platform offers, known as the 1Xwin.
The customer service is generally friendly, although they could do better on their overall response time.
The communication channels are varied, so that is not an aspect to fault them on.
Summary of pros and cons
Pros
The live chat is available on 24/7 basis
You can bet on more than 30 international lotteries
All the winnings you get go directly to your account
Cons
There is limited information on fees and commissions the platform charges
There are no real terms and conditions of use
Some aspects of the site are difficult to understand
Does it cost money to register on the 1xbet mobile platform?
No. the cost of signing up is free, and the process of registration is easy to follow – even for a complete beginner.
What does the registration process involve?
To register, simply visit the 1xbet mobile website, and select 'Register now' located in the top right of the page. You will then get a registration form, which you then fill, and submit the information by clicking 'Save'. Note that all your details must be accurate.
Can I change my details afterwards?
Once you click on 'Save', you cannot change your details. This information includes your username as well, so once you have created the account.
What if my 1xbet mobile account has incorrect information and I want to change it?
In case of such a situation occurring, make sure to contact the Customer Care services through any of the methods (email, live chat, telephone or twitter), and they will rectify any mistakes in your details.
Can I have more than one account?
For transparency reasons, the 1xbet mobile platform does not allow the opening of multiple accounts belonging to one user.
What is the minimum age for opening an account?
If you are under 18 years, you are not allowed to open an account.
How do I check the Terms and Conditions of 1xbet mobile?
On the homepage of the website at the bottom corner, there is a section for the platform's provisions and further explanation on the various products. You can access the Terms for participating in sports, racing and live betting as well.
Can I use international cards to pay?
The site does allows the use of international cards, although you can also get local methods of payment depending on the country you live in (for instance, the incorporation of M-Pesa and Airtel money for Kenyan customers).
For any details on your previous transactions, you can view them through your account statement. Note that the platform allows you to trade in cryptocurrency – specifically
Dash
Bitcoin
Dogecoin
Litecoi
Monero
Ethereum
ZCash
NEM
GameCredits
SIbcoin
Bytecoin
DigiByte
What are the minimum and maximum stakes?
For any sport you choose to bet on, the minimum stake is 0.20 Euros per bet, although there is no maximum stake (at least not strictly).
What are the maximum payouts?
The maximum payout you can withdraw at once is 1,500 CNY (per win every day), while the maximum daily transaction limit you can use is 200,000 CNY.
The minimum deposit amounts will depend on the method you are using, so you can find guidelines on the website.
How can I view my bets?
Click on 'My Account' on the main page, and go to 'Bet List'. All the bets you have placed will be there, and you can further filter them by status and time.
Any important information on bets?
Note that you cannot cancel a bet once you have placed it. For this reason, make sure to confirm all the details are correct before placing a bet.